Variety of the Best Quality Dates in Tunisia
The Tunisian palm grove has more than 300 varieties of dates. They all have the generic name of  "Common Dates". The most marketed ones are Allig, Khouat Alig, Kenta. These varieties of tunisian common dates are famous for their splendid taste and their remarkable quality. Besides, we make sure that all our products of Deglet Nour Tunisian Dates have the best condition during the whole process. Starting from the reception phase of Deglet Nour Tunisian Dates and going through the treatment phase, the production, the packaging and finally the transportation phase. Thanks to the professionalism of our staff, all of our Deglet Nour dates products are certified as high-quality, healthy and halal by numerous  international organizations.
TUNISIAN COMMON DATES ALLIG: FIRST VARIETY
ALLIG, is the most known variety of Common Dates in Tunisia. Remarkably, it is long, beautifully shaped, bearing a particular good taste. In addition, it has a dark mahogany color, particularly being soft in appearance. Notably, ALLIG is fleshy and has a semi-soft texture. ALLIG is picked in November.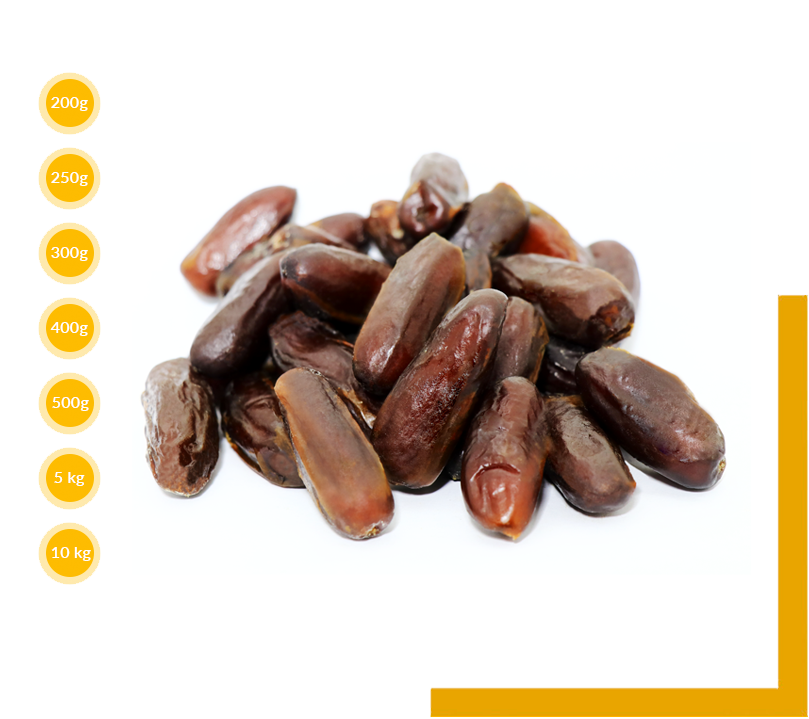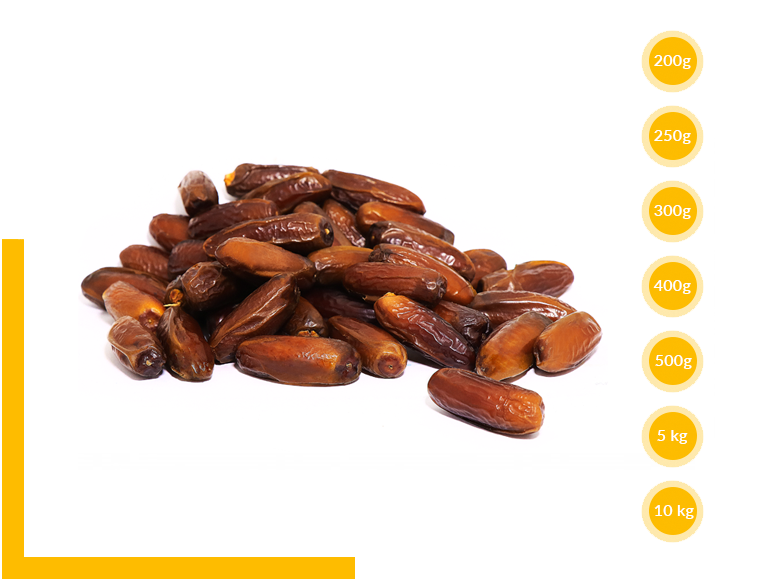 TUNISIAN COMMON DATES KHOUAT ALIG: SECOND VARIETY
KHOUAT ALIG  is a variety of common dates in Tunisia that is also picked in November and characterized by its elongated and fine shape. Moreover, its texture, color and taste are similar to those of the ALLIG variety. The few differences between the two varieties are:
KHOUAT ALIG dates:
Are slightly thinner that ALLIG Dates
Are less sweet
Have moderate water content comparing to ALLIG
TUNISIAN COMMON DATES KENTA: THIRD VARIETY
Kenta is another variety of common dates that has an early maturity, It matures in the first week of October. Marvelously, this variety of Tunisian dates has a light golden color and attractive appearance. Notably, Kenta is less sweet than all the other varieties. In addition, its texture is well-known for its semi-dry character.